Los Cabos is located at the southern tip of Mexico's Baja California Peninsula. Its attraction is the climate, geography, the sea and desert.
The resort town is known for sport fishing and golf. The weather and water of Los Cabos is moderate and beautiful. The cottages and villas are inhabited by foreigners and local communities. Travelers can sunbathe poolside or on a beach, each and every day.
Cabo San Lucas, Mexico is complete with resorts, fishing enthusiasts and water sports fanatics. Most noted for "El Arco", the natural archway in the rock formations of the Sea of Cortez, Cabo attracts celebrities, yachtsmen, fishermen and tourists alike. The waters off Cabo San Lucas Marina provides some of the best deep sea fishing in the world. Los Cabos is host to the largest and most competitive sport fishing tournaments in the world. You can also do some snorkeling along the coast or take a sunset cruise, tee up at one of our fourteen beautiful golf courses.
Annually, more than 3 million people passengers pass through the Los Cabos airport. Incredibly, 90 percent of travelers come from the United States and Canada. If fishing and great weather 350 days per year are a passion there is no better place than being in Cabo San Lucas. The possibilities for recreation are endless if staying nearby the Marina Cabo San Lucas. A vibrant nightlife is prefaced by days spent on the water or the beaches. The retail shops are just steps away from the marina.
Contrasting Desert and Sea
Los Cabos is a magical land full of contrast because of breathtaking seas, the desert, and mountains. "Land's End" is located at the tip of the southern Baja California Peninsula. Los Cabos offers unparalleled beauty, biodiversity, and a range of amenities.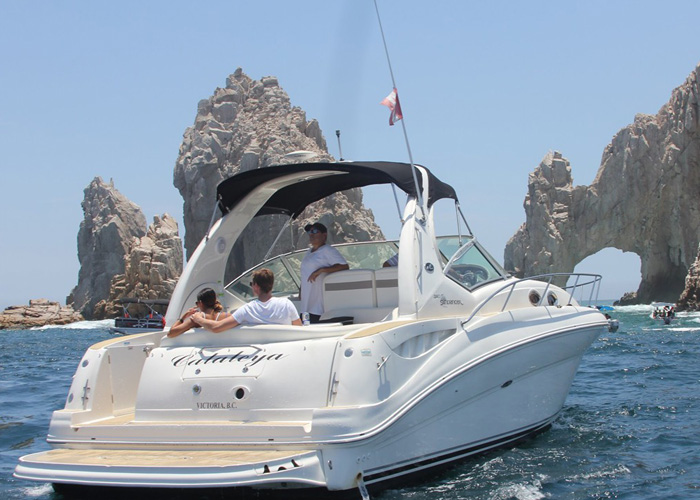 Additionally, Los Cabos is recognized as Mexico's busiest destination for private planes. For instance, known as a favorite vacation spot among A-list celebrities. A variety of luxury accommodations provide travelers with the feeling of a vacation like Hollywood finest.
The beach city is made up of two cities but is connected by the "Tourist Corridor". The first city is Cabo San Lucas with the iconic rock formation. This famous arch shaped landmark is known as "The Arch". The Tourist Corridor is a 20-mile stretch of gorgeous beaches and luxurious hotels, resorts, golf courses, and developments.
The second city is the colonial-style San Jose del Cabo and 23 miles from Cabo. It isn't far from the new Puerto Los Cabos development and marina. Passing the Los Cabos International Airport to the East is home to the world-famous Cabo Pulmo.
The Los Cabos Experience
Los Cabos is considered as a leader in the global resort scene because it attracts over 3 million visitors annually. Moreover, it is a cruise ship mecca. Due to rapid increase of tourism activities on the beach, there has been extraordinary increase in the construction of luxury hotels.
Most of all, your choices range from adventures to tranquility, excellent food, water-sport activities, and championship golf. The place is peaceful. The ambiance takes travelers to a world of relaxation, partying, nature, and opportunity. Visitors embark on their own adventures once in the destination.
Private Villa Accommodations and Luxury Yacht Packages
Unlike hotels that follow strict policies regarding their rooms, vacation home rentals in Cabo are a spectacular option. You have the luxury to dictate your needs during your stay. Whether you want a pet friendly villa or not, a private swimming pool, a private chef, and a variety of VIP yacht charters, everything and more will be within your grasp. The upside of a villa or condo accommodation is simple. You get to decide the execution of your stay during your vacation.
The allure of a villa holiday in the Cabo sun hardly needs any explanation. After all, what's not to love about a touch of tropical wonder in a place! Perfectly blue skies, the sands are golden, and villas with infinity pools looking are total luxury.
We suggest combining a luxury villa accommodation with a yacht charter. Enjoying sunset cruises around Land's End and a full-day of snorkeling is awesome. Ultimately, you will know exactly what it feels like to truly experience a trip to Cabo.
To learn more about our exclusive villa accommodations, please contact us. For our yacht charter plus accommodations packages, please contact us today!