Normally, planning a charter yacht trip called a "Live Aboard" can be a lot to take on. Exploring the Sea of Cortez aboard a luxury yacht is incredible. Enjoying multiple days and nights aboard a yacht is unquestionably, your once-in-a-lifetime experience.
If Jacques Cousteau could study it and Ernest Hemingway wrote about it, we know that you will also be awe-struck by the Sea of Cortez!
Here's some tips and terminology that will make it a little easier to figure out what kind of trip to put together. It is important to remember a few details about the Cabo area and surrounding waters. There are many unique water and beach activities that can only be accessed aboard a boat or yacht. Even the Arch at "Land's End" is only accessible by water!
Many people only think of a charter yacht as an extremely expensive trip because it's seemingly reserved for the super-wealthy. This is just not true! Luxury yacht charters to the Sea of Cortez are practical, comfortable, affordable, and accessible.  
Chartering a yacht is absolutely affordable. Also, it will be a memorable adventure. $500,000 dollars for one to two weeks on enormous luxury cruises come to mind for many travelers. However, an entire 52-foot yacht charter in the Sea of Cortez is all-inclusive.
Where to Charter a Yacht
Yachts can be chartered wherever there is a marina in the state of Baja California Sur. Examples in Los Cabos, Mexico will include departures and returns from the Cabo San Lucas Marina. Puerto Los Cabos Marina is in San Jose del Cabo. There are numerous marinas in the state capital city of La Paz considered to be the "Gateway to the Sea of Cortez".  
The Sea of Cortez is a beautiful place to cruise past islands and admire the pristine waters in style. Many people book charter yachts in Cabo San Lucas. The Live Aboard itinerary travels up the coastline with a visit to the internationally protected area, "Cabo Pulmo." The Sea of Cortez offers hundreds of island chains for swimming, snorkeling, fishing, and beach activities.

Espiritu Santo Island
The Espiritu Santo island is world renown for charter yachts. Unknowingly, you may have seen the island. It's featured on National Geographic, Discovery Channel, or in other documentaries. The massive island showcases 13 bays and allows you to glide from beach to beach across gorgeous calm water. Passengers on these charters love bay-hopping and enjoying their luxury yacht accommodations.
The outlets and smaller islands attract snorkelers and divers from all over the world! Watersports in the Sea of Cortez are always part of the itinerary aboard a luxury yacht charter.
The East Cape is another amazing charter yacht destination! As a result, it's often underrated despite being an amazing place to sail and cruise. Guests love visiting the East Cape because the area is a protected aquatic environment.
In total protected area, Cabo Pulmo National Park is 71.11 square kilometers (27.46 square miles) in size. The park is home to a wide range of marine life. They inhabit its coral reef. It is actually the oldest of only three coral reefs on the west coast of North America.
Crewed Charter

with

Private Chef
Firstly, when you start planning your trip is whether you want a crewed charter yacht and include a private chef. For those of us who know how about chartering a "Live Aboard", it's an easy decision! Include a private chef!
Secondly, a crewed charter includes the service of a group of people who know the ins-and-outs of yachting and the yacht itself. They take care of everything so our guests can relax and enjoy the ride. Thirdly, our customer service team will work on an itinerary based on the wants of the guests. The captain, crew, and private chef will prepare meals, and whatever else is in your itinerary.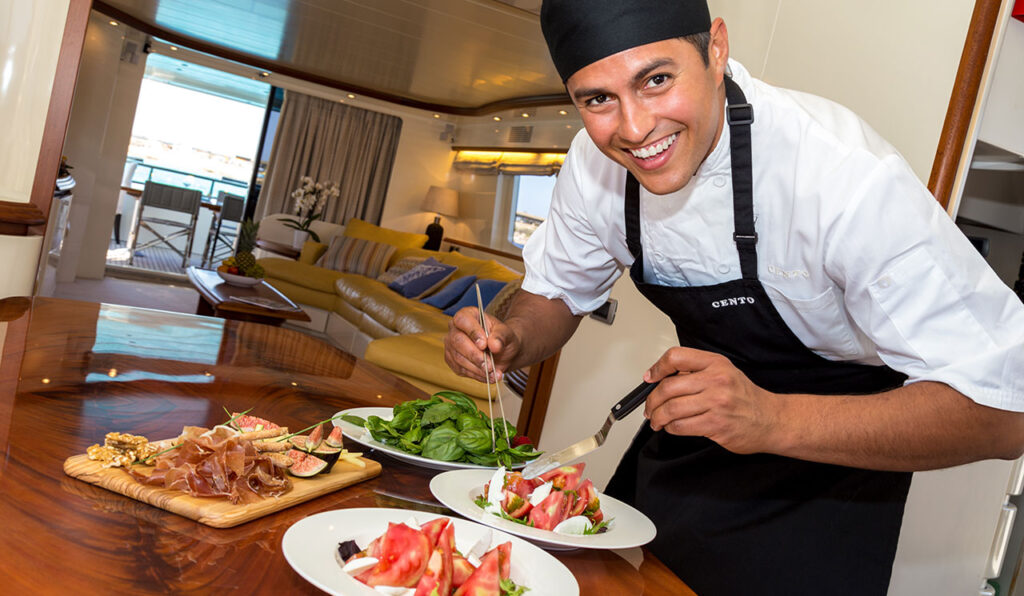 For example, the 52-foot "Opulence" is a luxury yacht crewed charter for a specific number of hours, a full day, or multi-day trips. There is also a gourmet chef, as well as a captain and host/hostess. For top-of-the-line service, you should stick to doing the fun parts and void of all worrying or responsibilities!
For instance, the Opulence is built for those who enjoy the very best. The yacht features wide open outdoor spaces. The interior features a spacious salon and a huge cabin. This yacht has a ton of bow space with very comfortable cushions. The salon is pristine and comfortable. It's equipped with powerful A/C in the cockpit and 2 bathrooms, including snorkel gear, water pad to float, and much more.
The Opulence is a spectacular "Live Aboard" option to explore the Sea of Cortez on a multi-day trip.
Helpful

Luxury

Yacht Charter Terminology
Beam

:

Distance across

the

width of boat at its widest point

.

LOA

(

Length Over All

):

Normally

,

this is the most important measurement of a boat

.

Nautical Mile (Knot)

:

Equal to 1.15 miles or 1.85 kilometers

.

Draft

:

The depth of the boat below the waterline

.

Tender

:

A

dinghy

.

Galley

:

The kitchen

.

Head

:

The toilet

Double Cabin

:

Cabin with a bed for 2 passengers (share a single bed)

.

Twin Cabin

:

Cabin with 2 separate beds for passengers (separate beds)

.

Master:

Master cabin normally with Queen-size bed for 2 passengers.

Base Charter Rate

:

Rate paid for the yacht and crew

.

APA (Advanced Provisioning Allowance):

The

fee of 30% that you pay in advance to cover the cost of provisions for your "Live Aboard" charter.
Explaining the APA (Advanced Provisioning Allowance)
With all the abbreviations and acronyms, yacht charter contracts can often seem a little confusing. But a charter agreement is actually relatively simple as its main purpose is to set out your rights as a charter guest.
One of the most common terms you'll see mentioned in your contract is the APA or Advance Provisioning Allowance. The APA will simplify your Live Aboard yacht charter services. 
Explore the Sea of Cortez Today
Now, you know how to explore the Sea of Cortez aboard a luxury yacht. It's time to turn that dream into a reality! We take VIP yachting to the next level. If you have any questions or need additional yachting options for a "Live Aboard", please contact our team at Cabo Yacht Life