Private sunset cruises and more! Hurry and book us now!!! Reservations in advance due to high demand. Create your own memories with Cabo Yacht Life!!! @caboyachtlife Book your private yacht charter now at bookings@caboyachtlife.com or Instagram @caboyachtlife
"¿Qué yate, qué hacer y cuánto dar de propina al capitán y a la tripulación?" Estas, y más, son preguntas consistentes que definitivamente podemos ayudarlo a responder. Our industry insiders provide you wyo asesoramiento de expertos for yacht charter clients entering the Cabo yachting world. Book now with Cabo Yacht Life and let's get your itinerary going! Due to high demand, we always recommend to hurry and book your yacht with us now.

Aprovechar

de Nuestro Destino Conocimiento
Debe pensar en el equipo de Cabo Yacht Life como el conducto entre usted y unas fabulosas vacaciones en Los Cabos, México.
Como su experto en yates, también seremos su punto central de contacto desde el momento en que comience planificación su charter en el destino. Te preguntaremos sobre tus planes y tus invitados para encontrar el yate ideal. Además, nosotros también armó un itinerario inolvidable que será disfrutado por todos a bordo. Una vez que comience su charter, mientras su capitán puede responder cualquier pregunta que pueda tener, nuestro equipo de atención al cliente permanecerá en contacto contigo siempre que los necesites.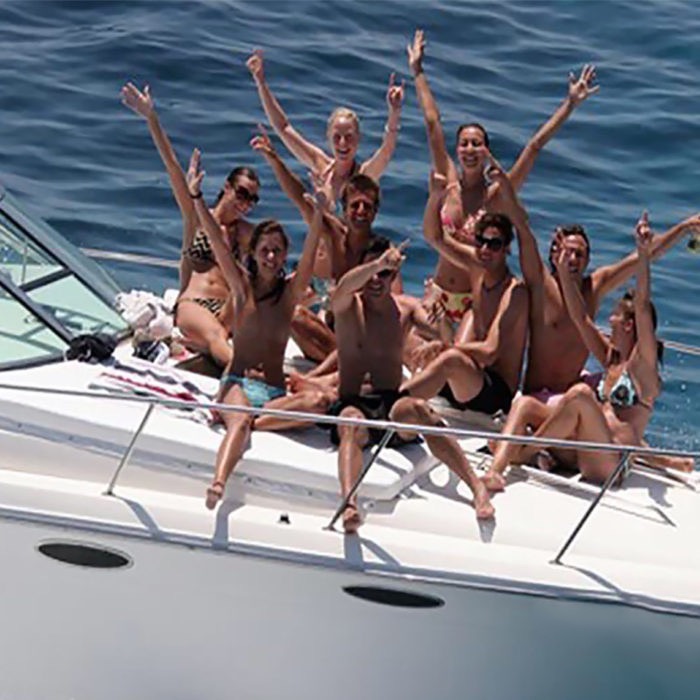 Recuerda, nosotros trabajo para ti. Como su equipo de servicio de alquiler de yates, trabajará en su nombre para explique la mejor tarifa de charters dependiendo de la temporada, tipos de yates, cosas que hacer en Cabo, y guiarlo a través del proceso contractual.
Book Your Yacht in Advance!
Be here now and book our amazing ?and fun ? yacht. ??? you will receive ➡#1⬅ service like family??. When you board our yacht?, YOU become family. The typical package is as follows: $98.00 ? per person for a 4 hour ? charter ((minimum 4 people)) THATS LIKE paying $24.5 per hour per person on a 4 hour charter. You cannot find this deal anywhere. (max 12 people) each additional person is $98.00 – You Can do snorkelling ??‍♀️ at Chileno or Santa Maria beach
– Whale Watching ?
– Sunset Cruise ?☀
– custom tour ??‍♂️ or Lovers Beach ❤?
Everything is included:
– Food – Drinks?????
– Captain?
– Bartender?
– Gas and supplies ⚓☀?
What a deal!!! We are located in Dock B in front of the fashion mall, and in front of Jack's restaurant. ?
Activities Galore Aboard Your Yacht
You can choose any of the following: when you get on the boat. – Whale Watching ? – Snorkelling ??‍♂️ in Santa Maria or Chileno Bay – Cruise Cabo's famous ?Arch, Medano beach ?bay and ❤Lovers Beach. ? – Sunset cruise? – Bachelor/Bachelorette parties??? – Wedding proposal ??? – Custom tours available as well.? *Minimum 4 people, maximum 12
Hurry! Book now at Cabo Yacht Life! We receive a lot of reservations and we'll in advance. Everything is included in your tour so you can sit back, relax and let us create unforgettable memories for you. What's included:? – Food (tacos, salsa, ????guacamole, chips, snacks) – Drinks (Beer, margaritas, ?????soda, water, ice) – Captain/Host & Waitress/Bartender??‍✈️??‍✈️ – On the yacht: Snorkelling gear, towels, floaties, large swim platform, A/C❄, clean bathroom, a safe, sombreros for pics?, sun pad, fresh water shower?⭐ – Custom sound ??????system with pre-programmed DJ music (Tropical House), or connect your phone via ?Bluetooth or AUX cord?
Want to rent a private villa ??? Contact us about our exclusive villa rentals + yacht package !!!
#cabosanlucas #baja #travel #vacation #ocean #bajacalifornia #cabo #love #luxurylifestyle #yachting #caboyachtlife #snorkeling #whalewatching #cabomarina
#mexico #arch #medanobeach #loscabosmexico #letsgotocabo #clubcascadasdebaja #bookusnowcaboyachtlife #caboyachtlife