Now is the time for the best fishing charters in Cabo. Cabo is one of the few places in the world where a first-time angler might catch a massive Marlin on the first trip out. If you don't include fishing during your trip, you simply have not experienced Cabo.
Typically, the best fishing charters at Cabo Yacht Life depart the Cabo San Lucas Marina at 7am and return at 3pm through 5pm. Booking an 8-hour charter up to a 10-hour charter guarantees the best fishing in Cabo.
Beginning in June during a normal year, or when the water temperature has risen, blue and black marlin begin to make their presence known in a big way. The normal tackle for striped marlin is in the 30-pound class. The waters in and around Los Cabos produce marlin in record numbers. Record weight will range from a small marlin at 300 pounds up to some at 1,200 pounds.
We strongly recommend booking your fishing charter boats in Cabo now. Cabo Yacht Life fishing reservations are already in high-demand for August through November.
Top 10 Reasons to Fish in Cabo
There is a myriad of reasons to go fishing in Cabo. Time and time again, first-time anglers provide similar feedback after their once-in-a-lifetime fishing experiences in Cabo. Examples tend to include spending time in beautiful outdoor places, where the desert meets the sea, the calming of the aqua-blue currents, the feelings of accomplishment when you reel in a personal best catch.
However, fishing newcomers and experienced anglers alike may want to check out this list of the best reasons to get out on the water and cast a fishing line in Cabo.
1. Spending More Time Outdoors.
Since the best fishing charters in Cabo outing lasts anywhere from 8 to 10 hours, fishing helps boost the overall amount of time you spend outdoors. A fishing activity helps to balance out screen time spent on television and electronic devices. In fact, studies have shown that people who spend time outside on a regular basis are happier and more productive. Fishing in Cabo helps connect people to the natural environment.
2. Fishing Helps You Learn Lessons in Patience.
Whether you are rigging live bait or casting out your favorite lure, fishing requires you to pay close attention by watching and waiting for a strike. The best fishing charter boats in Cabo have the choice of a wide variety of fishing grounds, both in the Sea of Cortez and the Pacific Ocean.
3. You Are Participating in Conservation.
Fishing contributes to the conversation of our aquatic resources. Purchasing a license go towards research and governmental enhancements. The more you learn about fishing and conservation, the more mindful you are of proper catch-and-release requirements, protecting our eco-systems, and respecting other anglers. In fact, fishing in Cabo boasts an extremely high 90% catch-and-release rate.
4. Fishing Helps You Relax and Unwind.
Did you know that fishing is often used as recreational therapy? Time spent in nature and fishing has shown to diminish depression, reduce inflammation, and offset stressful situations. The allure of fishing in Cabo and the thrill of a catch brings smiles to everyone's faces. And, it shows time and time again.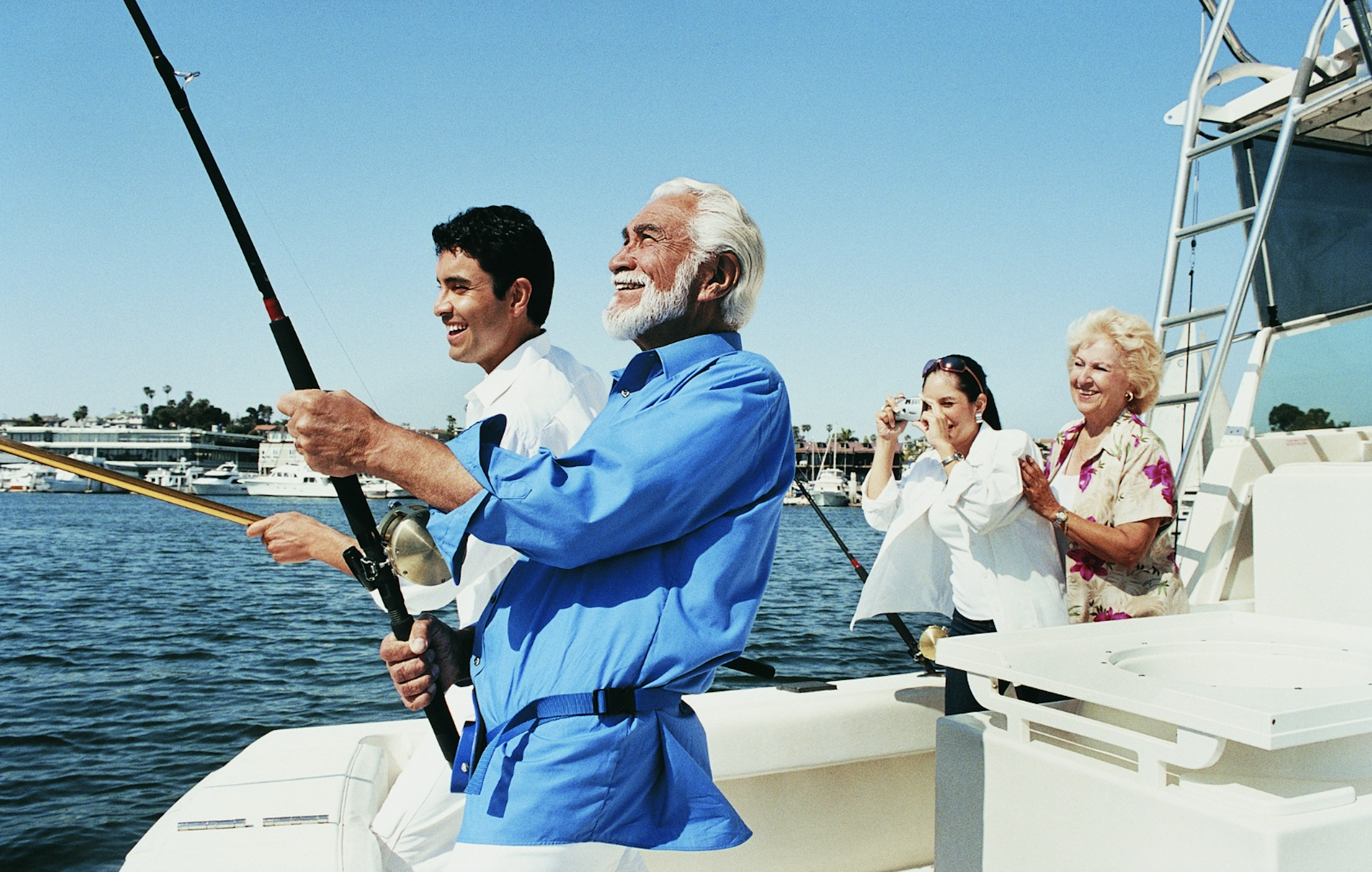 5. Feelings of Achievement and Empowerment.
It doesn't matter if you are rigging lines, chatting with the captain about his tournament-winning achievements while fishing, or reeling in a black and blue marlin. Fishing in Cabo helps build confidence through feelings of achievement and empowerment for all ages, first-timers, and expert anglers.
6. Learning New Skills on The Water.
Whether a novice, first-timer, or experienced in sport fishing, there are always new and different techniques you can learn. For example, mastering new fishing knots and learning about different kinds of bait are unique in Cabo San Lucas, Mexico. The Cabo Yacht Life captains and crew have extensive experience in providing expert advice about how to catch fish in Cabo.
7. Bonding with Family and Friends.
Adventures on the water bring people together in a number of ways. When you share the bliss of a first catch or see the stunning scenery, you form bonds with family and friends that will last a lifetime.
8. Mentoring Others and Pass on the Passion.
If you already are an expert angler, you probably had a mentor. That person took you out on the water and taught you invaluable lessons about the sport. One of the best reasons to go fishing is to pay it forward. Expert anglers with decades of experience truly enjoy helping others learn and teach newcomers about why conservations are important.
9. Fishing in Cabo is Extremely Fun!
There really aren't many things that can compare to the fun of sharing fishing experiences with your friends and family. Additionally, doing so while enjoying the best fishing charters in Cabo is definitely a bucket list item for the vast majority of people!
10. Learning About the Eco-Systems and Fish Species.
Every time you head out aboard one of the best fishing charters in Cabo, you will learn something new. You might note a feeding behavior of a particular species that can help you catch more fish. Learning about and actually seeing the types of fish in the surrounding waters is an incredible experience.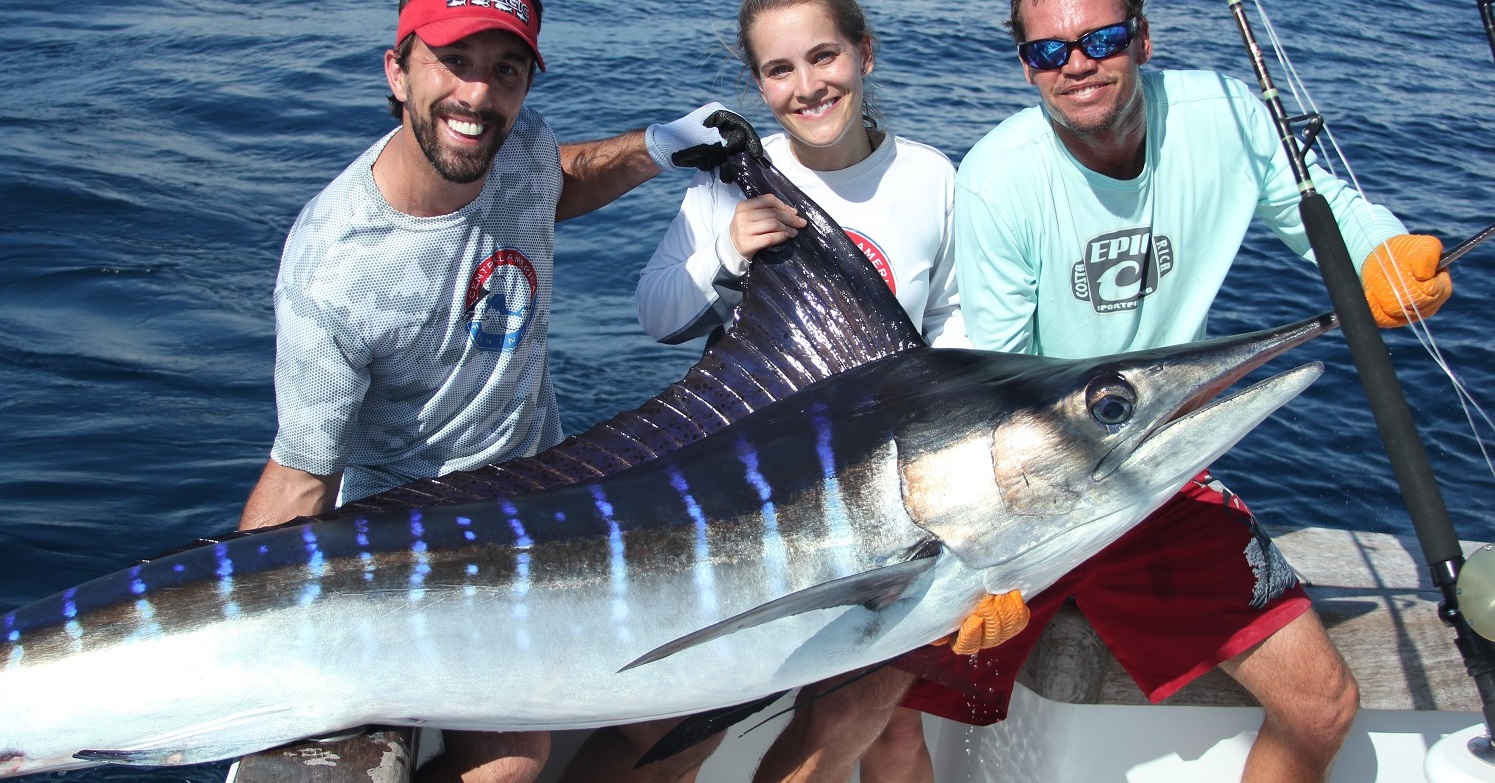 Best Fishing Charters in Cabo
Fishing is an activity in Cabo that attracts tourists from all over the world. We provide some of the best fishing charters in Cabo with a comfortable environment, lunch, drinks, and awesome perks. A major benefit we offer with our yachts and boats is ample space for anglers and guests.
Anglers are releasing approximately 2,000-plus striped marlin per year. As a result, Cabo San Lucas is considered to be "The Marlin Capitol of the World." Both amateurs and professional anglers agree that Cabo is one of the world's greatest fishing destinations.
For instance, the best fishing lies just between the Sea of Cortez and the Pacific Ocean. These two bodies of water join in a tumult of marlin and swordfish, wahoo, dorado and yellowtail, snapper, corvina and even rooster fish. Los Cabos, Mexico has over a 90% catch and release rate as a measure to ensure the populations remain stable. Today, Cabo is considered to be one of the world's greatest fishing destinations.
Cabo Fishing Chart:
Year Round: Striped Marlin, Dorado, Tuna and Shark
June to December: Black Marlin and Blue Marlin
February to June: Swordfish
April to November: Sailfish
May to December: Wahoo
Los Cabos Major Fishing Event Calendar:
East Cape Dorado Shoot Out: July 16th, 2022
Bisbee's East Cape Offshore: August 2nd to 6th, 2022
East Cape Gold Cup Wahoo Jackpot Tournament: August 20th, 2022
Los Cabos Billfish Tournament: October 16th to 20th, 2022
Bisbee's Los Cabos Offshore: October 20th to 23rd, 2022
Bisbee's Black & Blue $25 Million Dollar Jackpot Tournament: October 25th to 29th, 2022
Cabo Fishing Tournament Winners
Only the most experienced captains and professional crew work on our fishing boat charters in Cabo. The Cabo Yacht Life captains and crew have extensive experience in service and helping our guests catch fish in Cabo. Our captains and crews have won some of the biggest fishing tournaments in Cabo, Mexico.
You'll know that you're in most capable hands when you charter a yacht in Los Cabos, Mexico with Cabo Yacht Life. Our captains know the local waters. Whether an amateur or an expert, every aspect of your fishing charter will be covered and executed with the highest standards.
30 Years of Cabo Fishing Experience
The waters around Cabo San Lucas provide some of the finest fishing in the world with a variety of species and year-round abundance. A sport fishing trip to Cabo is adventure travel indeed! The best fishing charter boats provide an excellent way to tackle the true Cabo fishing experience.
With over 30 years of fishing experience, we know the local waters. We pamper fishing guests with exceptional service. Please contact our Cabo Yacht Life team today to learn more about our best fishing charters in Cabo.