One of the best family-friendly activities in Cabo is chartering a yacht. Over the last five years, chartering yachts for the family vacation is growing in popularity.
Yachts are one of the best venues for having families spend time together making amazing childhood memories, new adult memories, deepening the bond of family members. Whether it be grandparents, immediate or extended family members, having an adventure aboard their own private charter yacht is an unforgettable experience.
Choosing the right yacht allows you to customize your experience to the families' requirements. Trusting the highly professional Cabo Yacht Life booking department to guide you through the steps makes the family journey much easier.
When a client contacts Cabo Yacht Life, our team always asks for more information in order to customize the yacht charter. We believe that yachts should be a continuation of your home and vacation. We encourage you to sit back and relax as if you were in your own luxury living room on the sea. Of course, the big difference is that your family will be admiring the incredible panoramas found only in Cabo San Lucas, Mexico!
Personalizing Yacht Charters for Families
Your highly qualified Cabo Yacht Life yacht booking specialist will guide you through the options once they are given a general background of the group's desires and make up. Knowing the approximate dates of travel and budget, size of the group, ages of all aboard and sought-after water activities, helps the reservation department personalize your yacht charter.
One of the first things to begin with is the ages and desires of the members of the family that will be chartering the yacht. Age groups are important to maximize quality time for all. Whether it be full of adventure, relaxation, playing in the fresh air and sea with a myriad of sea toys, swimming and snorkeling, or sitting back and sunbathing, there is something for all ages to enjoy.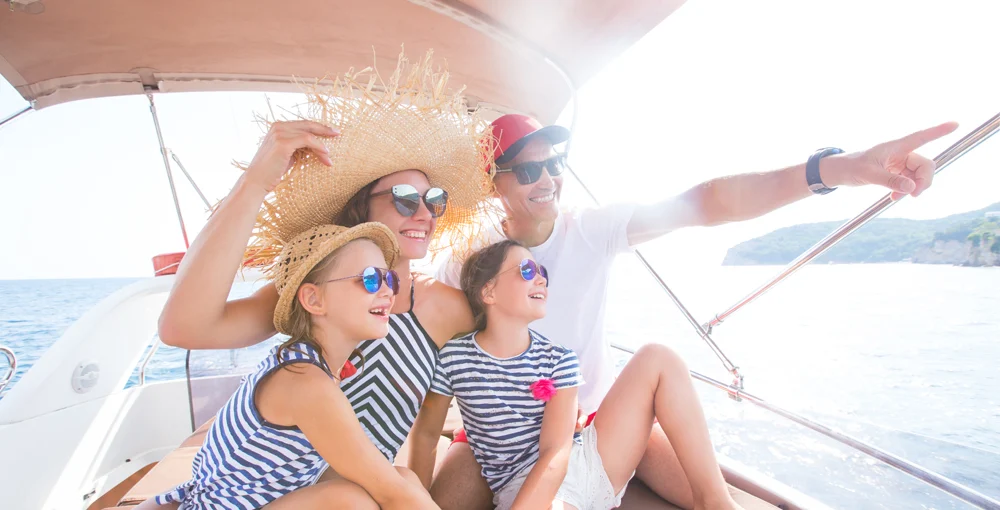 Every guest's experience will be unparalleled aboard your own private charter yacht. There are numerous ways to keep the most restless of travelers occupied. From toddlers to grandparents there are age-appropriate activities suited for everyone.
Most importantly, not allowing anyone to get bored is part of the reason that Cabo Yacht Life is the #1 yacht charter company in Cabo today.
Yacht chartering provides the flexibility and freedom to indulge in each guest's favorite activity at their own pace or learn a new skill and activity for water fun while in Cabo.
Yachting with Young Children
If you are cruising with young children, they must be carefully monitored. Child safety is always a concern and will be well met by all crew aboard. It is important to know that the Cabo Yacht Life captains and crews are comfortable around children and have extensive experience in hosting families.
Our fabulous, professional and experienced crews can help make the yachting experience extraordinary. Nannies and baby sitters can come aboard for direct one-on- one care if you wish for more supervision.
Yacht Sizes and Space
Of course, one of the most important factors in an enjoyable charter is picking the yacht that best fits your family's preferences.
Make sure you choose a yacht with ample space and family-friendly crew. We always ask clients the exact age of their kids and what kind of family holiday they are after. Then, we glean as much information as possible about what everyone likes to do on board or the bucket-list items that we can accomplish during a yacht charter.
As the most family-friendly yacht charter company in Cabo, our booking department, captains, and crews will ensure that every detail is fully prepared. Your family's yachting experience will be the most memorable aspect to your vacation in Cabo.
The Most Affordable Yachts in Cabo
Budget must be kept in mind. Fortunately, our guests are always pleasantly surprised to see that we offer all-inclusive yachts. Renting a Cabo Yacht Life yacht are the most affordable in all of Cabo. We have the ability to whisk a family away on a yachting adventure for a fraction of the price because we own our yachts. There are no middlemen.
Our mission is to provide yacht charter services to everyone imaginable. And, that begins with affordability. We pride ourselves in offering first-class, five-star service. Yachts include gold-star amenities. Lastly, our fleet consists of the most pristine and most opulent yachts in Cabo San Lucas, Mexico.
All-Inclusive or Customized Menus
We all know that not everyone likes the same food choices. Indeed, most children will prefer the simple hamburger or pasta meal to a gourmet meal or different types of tacos. Aboard a charter yacht the chef is well versed in preparing food for all tastes and degrees of cuisine. Fussy eaters, both young and old, can be a challenge.
The chef will delight in preparing extraordinary meals to please all. Yacht chefs are used to catering to all generations from small little tykes to grandparents. Food draws all people together and dining as a family as one brings a further sense of bonding. Exploring local dishes helps create new senses and new memories for all.
During your reservation process, guests are encouraged to explain the dietary requirements, in advance. Our booking specialists are experts in their fields and have the ability to offer up a variety of solutions in order to meet the needs of each and every family member.
Unsurpassed Luxury for Family Bonding
Chartering a private yacht with Cabo Yacht Life will be the most memorable experience during your stay in Cabo. Interestingly, the educational opportunities aboard abound for all to enjoy. Aquatic experiences, local delicacies, coastline cruising, swimming, snorkeling, SEABOBS, and lifestyle are all always surrounding you.
Your family-friendly yacht charter is an educational opportunity too! Learn about the Pacific Ocean and the Sea of Cortez aboard your yacht. Anticipate once-in-a-lifetime family pictures in front of the Arch at Land's End. Many breathtaking experiences and memorable moments will be forged. Both the young and old will find so many shared interests.
Your floating villa, your yacht, will have all the comforts of home and yet more excitement than one could fathom. Both adults and children will relax in unsurpassed luxury and will explore endless adventure. Parents and grandparents get to sit back! Our job is to cater to every need while your family indulges in pure relaxation. You'll know the children are all well cared for.
Your children will not be needing much "screen-time" to be entertained. The beaches, local waters, and abundance of sea toys will be occupying their every moment. More quality time will be spent with the family in an exclusive environment.
Reserving Your Family's Private Yacht Charter in Cabo
You can expect the ultimate in luxury when embarking on your private yacht charter with Cabo Yacht Life. Your yacht will have everything you need or want for an amazing family-friendly holiday activity. All yacht guests will have a dedicated team to ensure your yacht charter will exceed everyone's expectations.
La misión de nuestra empresa es atender a todos y cada uno de los huéspedes con servicios de yates VIP. Siempre sugerimos reservar su yate con anticipación debido a la gran demanda. Si está listo para el viaje de su vida, por favor contactanos today to start planning a dream yachting experience for your family in Cabo San Lucas, Mexico!